The BigCommerce Wedge
How BigCommerce uses Shopify comparisons to their advantage.
Welcome to Good Better Best! If you're reading this, but haven't subscribed, join leaders across some of the most disruptive companies in the world and subscribe below:

---
Happy Sunday y'all!
Hope you're enjoying a relaxing long weekend. Labor Day weekend is one of my favorites - it is downright perfect in New England right now.
Before getting into this week's post, last week, I was lucky enough to collaborate on a guest post with Anuj Abrol for his newsletter, Witty Wealth. We wrote about Peloton's low-key pivot from hardware to content. It was a blast, and if you're into tech and investing analysis, Witty is a must-subscribe.
This week, we're back to analyzing a single company, and it's one that recently had a very successful IPO: BigCommerce. I wanted to write about BigCommerce because most of the post-IPO analysis I've seen has oversimplified their opportunity, resting their bull case on being Shopify's distant #2.
This post aims to unpack that comparison, highlight how the two companies are actually pursuing very different strategies, and uncover why the Shopify comparison actually helps BigCommerce along their path.
I would love your feedback. If you enjoy this post, do me a favor and click the "like" button up top (the heart). That way I'll know which posts are resonating most!
On to this week's analysis.
---
Briefing 📋
"We're like Shopify, but…": BigCommerce and Shopify have a lot in common, including almost identical core pricing. Inevitably, BigCommerce gets compared to Shopify a lot. While this might seem like a bad thing for BigCommerce on the surface, it allows them to align with Shopify's benefits and highlight their advantages when positioning their product to prospective customers.

The BigCommerce Wedge: BigCommerce leverages its ability to support complexity as a key differentiator against Shopify. However, they emphasize the simplicity of their SaaS model when positioning themselves against their closest competitor in the midmarket and low-end Enterprise, Magento. This combination of a streamlined SaaS experience that supports complexity underscores their biggest opportunity: winning market share among midmarket and low-end Enterprise merchants.

Moving up the Ladder: As they successfully serve midmarket and low-end Enterprise merchants, the social proof will lure merchants further up the Enterprise ladder using legacy platforms like Demandware (Salesforce Commerce Cloud), and Hybris (owned by SAP), unlocking opportunities to serve merchants processing massive amounts of GMV (gross merchandise volume).
---
"We're like Shopify,
but
…"
On the surface, BigCommerce and Shopify have a lot in common. They're both SaaS solutions founded within a few years of each other, and they're both on a mission to make it easier for merchants to launch an online store. 
Beyond the high-level, if you look at their pricing pages, and you'll notice another similarity: their core pricing is pretty much identical.

As defined by ProfitWell, competitor-based pricing is when a company adopts prices similar to other companies in their sector. BigCommerce takes it a step further, essentially matching Shopify's plans and price points. While fairly common in commodity goods and retail, it's rare that a SaaS company prices its product this close to its primary competitor. 
With this in mind, it's easy to look at BigCommerce as Shopify's distant challenger. At the very least, it makes it really easy to compare the two. If they offer similar products and charge the same price, how couldn't you? 
That said, there are significant differences in their pricing. The biggest one being that Shopify uses a transaction fee to differentiate tiers while BigCommerce uses trailing 12-month sales. As mentioned a couple of weeks ago in Shopify's Underrated Lever, Shopify's transaction fee acts as a tax that forces merchants deeper into their ecosystem. BigCommerce uses this to anchor their counter-positioning to small merchants.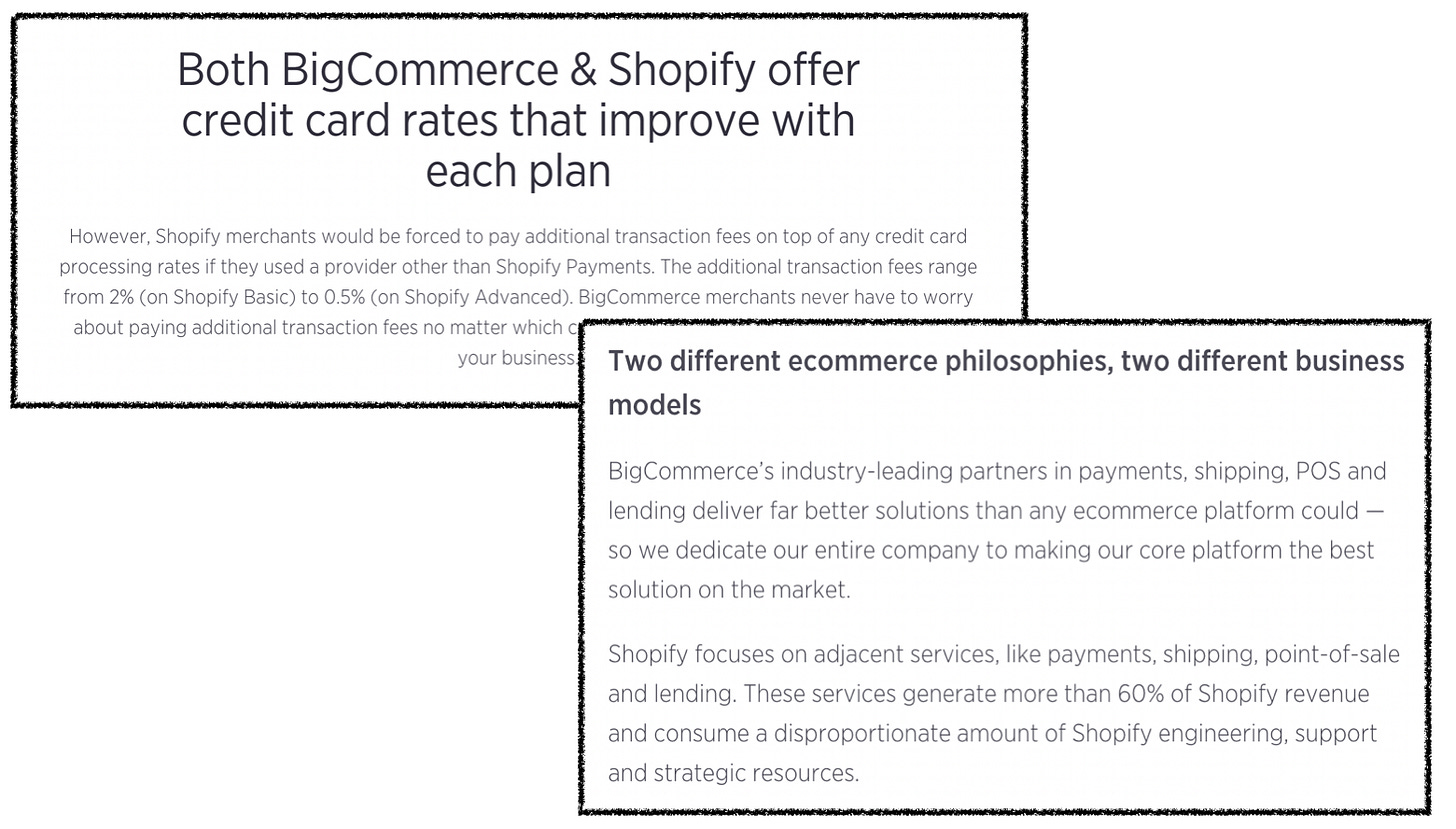 These differences, paired with their competitor-based pricing strategy, power BigCommerce's counter-positioning, which goes something like this…
"We're like Shopify, but we don't believe in transaction fees." 
Or, 
"We're like Shopify, but offer more flexibility."
The thing is, with smaller merchants, this approach hasn't worked. In the downmarket, Shopify is winning handily. Small merchants have fewer products, simpler use cases, and are more likely to want an easy, all-in-one solution that allows them to get an online store up and running quickly. 
This dominance has led analysts to refer to Shopify as the elephant in the room when evaluating BigCommerce, but the thing is, BigCommerce doesn't care about that room. They have their sights set on another one, the Enterprise room. 
In this room, the competitors are legacy, on-premise solutions that have dominated market-share for years. In this setting, their "we're like Shopify, but" playbook works much better. 
---
The BigCommerce Wedge
Upon deeper inspection of the BigCommerce website, it's clear their focus differs from Shopify. First and foremost, the default setting for their site directs you to the Enterprise tab, not Essentials (the plans that have the same pricing as Shopify).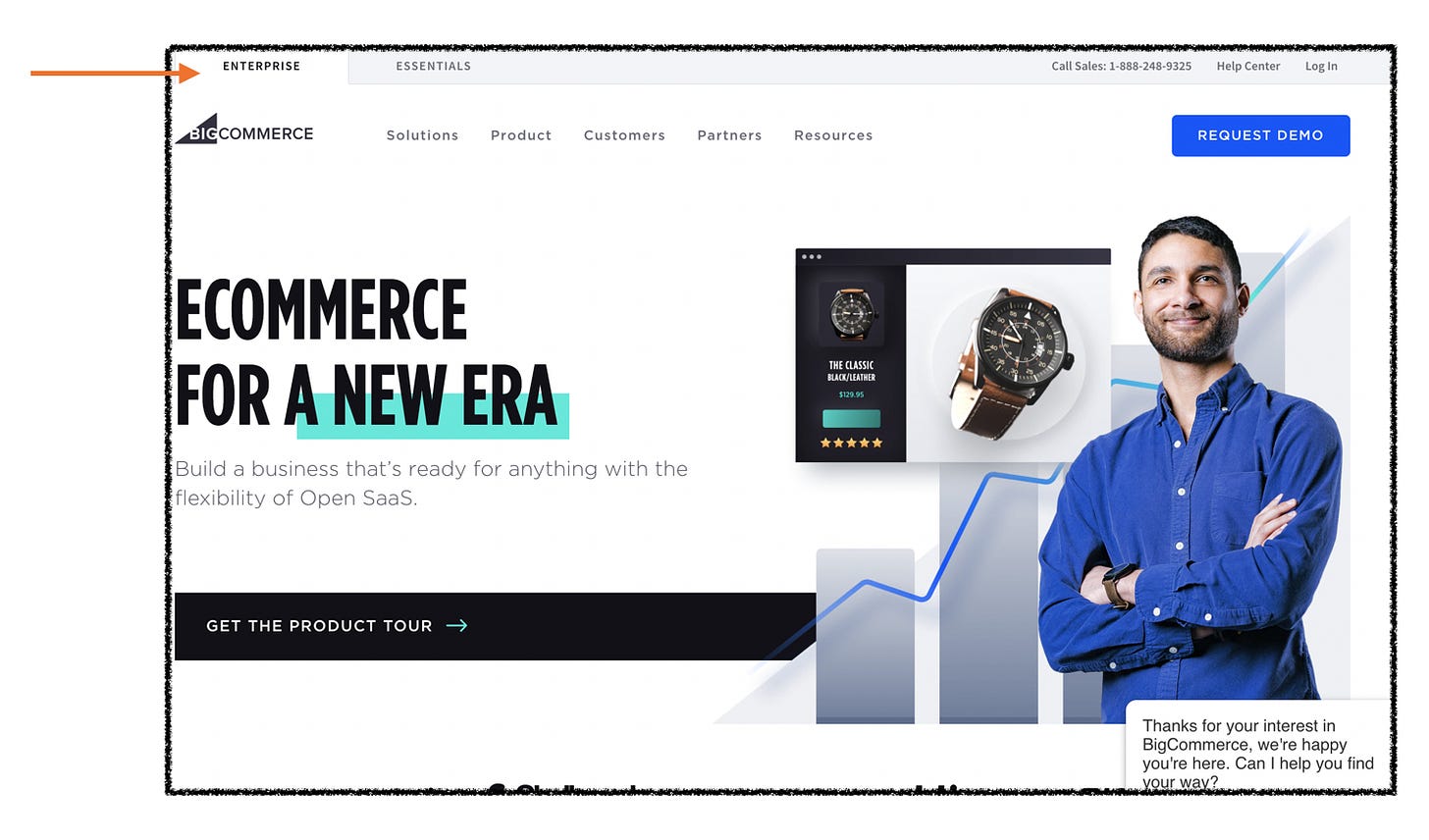 Additionally, on the Essentials pricing page, they include the Enterprise plan within the broader packaging grid.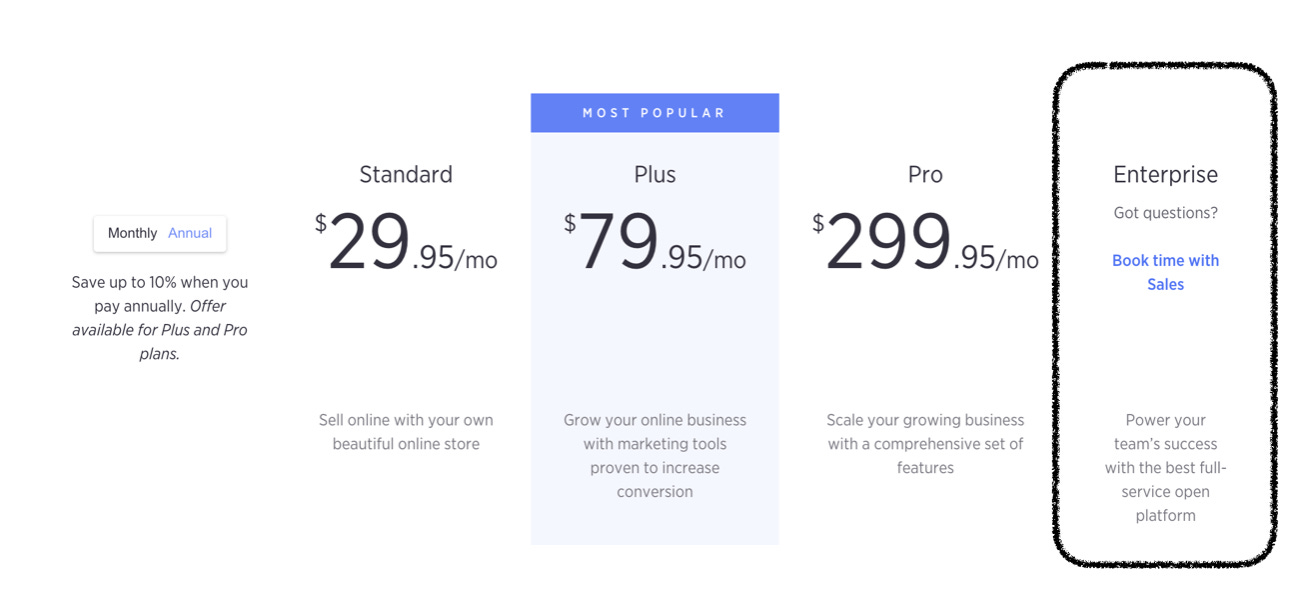 This may not seem like a big deal, but it's worth noting in contrast to Shopify, who's pricing page emphasizes their core packages, listing Shopify Plus, their Enterprise solution, below the core plans. 
This difference is further reflected in each company's revenue mix. Their S-1 notes that about half of BigCommerce's revenue comes from mid-market and Enterprise merchants, which they define as those doing over $1M per year in sales. As of Q2, Shopify Plus customers accounted for 29% of Shopify's MRR (monthly recurring revenue). 
This focus also influences each company's Enterprise product. Shopify Plus serves large merchants with a SaaS offering positioned around simplicity, pointing these merchants to their app marketplace if they need more robust functionality.
BigCommerce has made it a priority to build Enterprise features directly into their product and offers powerful APIs that give merchants a uniquely customizable and flexible SaaS experience. 
Customization and flexibility are critical to Enterprise merchants, and one of the key players on the low-end is Magento. 
As an open-source solution, Magento offers merchants practically unlimited flexibility and customization. However, those benefits come at a cost. Customers usually need to hire a specialized developer and pay for infrastructure and managed support, both of which are included with a subscription to BigCommerce or Shopify. Additionally, as an on-premise solution, Magento customers are responsible for performance and security, which comes standard with SaaS platforms like BigCommerce and Shopify. 
In a nutshell, Magento puts more responsibility on the customer. While BigCommerce doesn't offer as much customization as Magento, they offer more than Shopify, and as a SaaS solution, they take way more responsibility off the customer's plate than Magento. 
This is the BigCommerce wedge. Their product, packaging, and positioning give them the unique opportunity to sit between Shopify and Magento, emphasizing both their ability to handle the complexity of larger merchants and the simplicity of their SaaS model. 
Intuitively, when competing with Shopify, BigCommerce leads with their ability to handle complexity, since both companies use a SaaS business model. However, when competing with Magento, BigCommerce can lead with the simplicity that comes with moving to SaaS, and complement that with their ability to offer more flexibility than Shopify. 
In practice, their pitch to Enterprise merchants may go something like:
"We're like Shopify, but we have way better APIs and more advanced features."
This also gives Enterprise buyers a convenient hedge. While Shopify may be viewed as too simple for many large merchants, with BigCommerce, they can say they're moving to a solution that has all the benefits of SaaS, but still supports the necessary level of complexity that they need.
The recent launch of Magento 2 has given BigCommerce a huge opportunity to prove themselves. Magento stopped supporting customers on their legacy platform, Magento 1, on June 30th, forcing customers to make a decision:
Continue using an unsupported solution

Upgrade to Magento 2

Move to a new solution
Sticking with an unsupported solution would mean sacrificing support, security, and new functionality. On the other hand, migrating to Magento 2 is essentially a full re-platform, which is why after June 30th, many Magento customers still hadn't made the move.
This gives competitors a huge opportunity to take advantage, and BigCommerce has done just that. They're actively offering Magento customers 4 free months through September when they migrate to BigCommerce.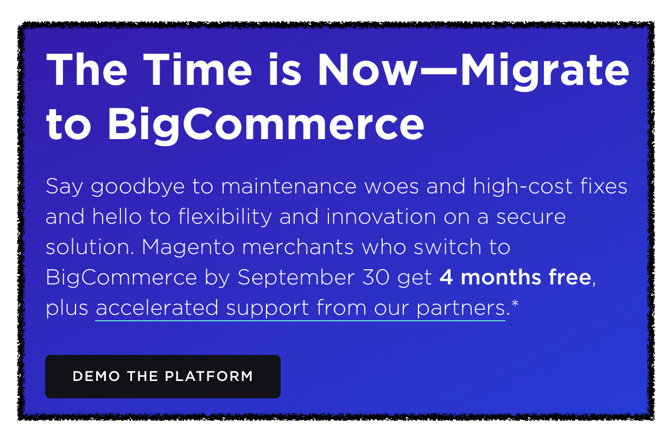 This is an aggressive discount, but it's also a rare opportunity. Large merchants don't re-platform often, which is a major reason BigCommerce wants to take over this space. Since Magento is essentially forcing their customers to re-platform, BigCommerce wants to do everything they can to capture these merchants and prove they can support them. 
---
Moving up the Ladder
If successful, this will give BigCommerce the social proof to lure merchants further up the Enterprise ladder using platforms like Demandware (Salesforce Commerce Cloud), and Hybris (owned by SAP). These legacy solutions, both under massive product umbrellas at their respective parent companies, are ripe for competition from a cheaper, more nimble solution like BigCommerce. Successful execution here would allow BigCommerce to unlock massive amounts of GMV by serving some of the biggest online stores in the world.
I want to be clear - Shopify isn't going anywhere. In fact, Shopify Plus has been taking market share in the midmarket and low-end Enterprise as well. However, their recent strategy has shown they are more focused on the volume of merchants, rather than merchant volume. 
While both Shopify and BigCommerce want to grow the revenue they generate from accounts over time, they have vastly different strategies to get there.
Shopify's ecosystem play is genius in the downmarket because those merchants are fickle and more likely to churn. If Shopify gets them deeper into their ecosystem using adjacent services, it makes their platform stickier, lowering churn risk. 
BigCommerce is on a different mission. They're targeting the merchants with higher ACVs (average contract value), that are less likely to churn in the first place. These merchants will grow their usage over time, boosting BigCommerce's net dollar retention, and resulting in negative churn rates. 
The data shows it seems to be working.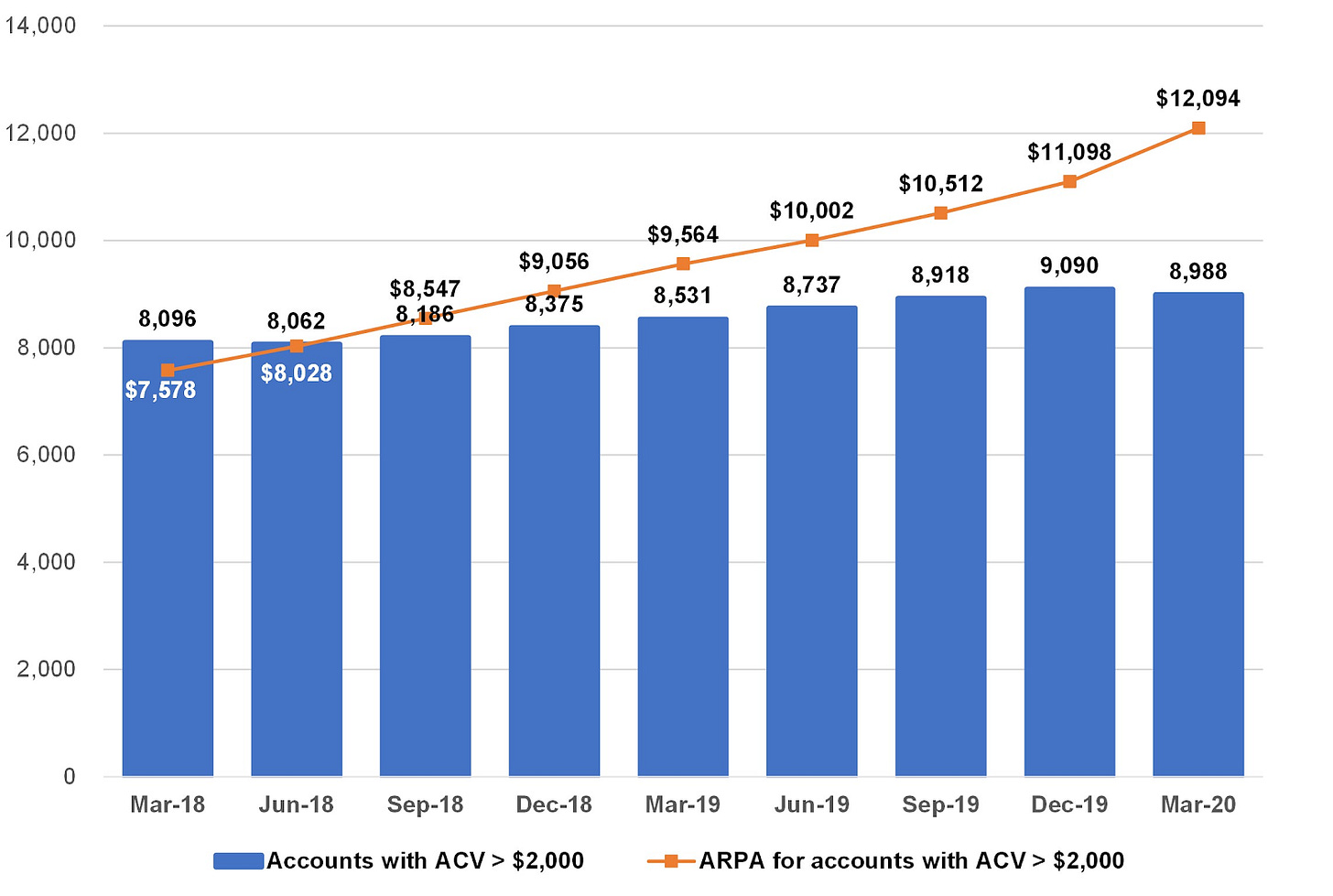 Over the last two years, they've both boosted their number of high ACV clients and increased the average revenue of those accounts by 60%. 
Though their identical core pricing makes it look like BigCommerce is following Shopify's lead, a closer look at their product and positioning reveals they're charting a different path.
As they move further upmarket, they can continue using the "we're like Shopify, but" playbook to bring on more Enterprise merchants looking to save money and simplify their eCommerce setup. Along the way, they might just prove that being "the distant #2" isn't all that bad after all.
---
Enjoying Good Better Best?
If you enjoyed this post, I'd love it if you hit the "like" button, that way I'll know which posts are resonating the most!
If you have thoughts or feedback, I'd love to hear from you! You can find me on Twitter here.