How Calm Won Wellness
The power of aligning positioning, product and packaging.
Welcome to Good Better Best! If you're reading this, but haven't subscribed, join product leaders across the most disruptive companies in the world and subscribe below:

---
Meditation has been my white whale. 
No matter how hard I've tried, I haven't been able to build a consistent habit.
I first started trying to meditate around 2013-2014. Back then I was listening to a lot of Joe Rogan and Tim Ferriss, and it seemed like every guest was a professional meditator. As a nail-biter, and someone who's had anxiety here and there, the idea of a daily habit that could rest my mind sounded too good to be true. 
Around this time, I also became aware of Headspace. Perfect, I thought, I don't even need to do anything, the app will take care of it for me! Then I started trying to meditate. 
Doing nothing for 10 minutes proved to be far more challenging than I thought, even with professional guidance. I'd fidget, my mind would wander, and 10 minutes later, I was sure I did it wrong. This led to an on-again, off-again habit over the next 5 years. I'd try to get back into it, go a few days in a row, then get frustrated and stop. 
Tim Ferriss has this party line, "If you can't carve out 10 minutes to meditate every day, then you really need 20." Every time I failed to meditate, I'd think about that quote and would want to punch Tim Ferriss in the face.  This habit was supposed to be helping me, but my inability to stay consistent made me more stressed out. 
Another reason I was inconsistent is the Headspace packaging model. Back then, the first 10 sessions were free, but then you had to upgrade to a paid subscription. I got through the first 10 sessions, subscribed, but then would fall off, and wouldn't want to pay a monthly fee (however nominal) if I wasn't doing it consistently. Inevitably, I would subscribe again a couple months later, only to end up repeating the cycle. 
Eventually, I started experimenting with other apps, landing on Calm. When I found Calm, it was definitely the up-and-comer compared to Headspace. That changed, first slowly, then very quickly, as Calm has been the most downloaded meditation app 3 years in a row, has twice the paid users as Headspace and was valued at $1B in their most recent round of funding.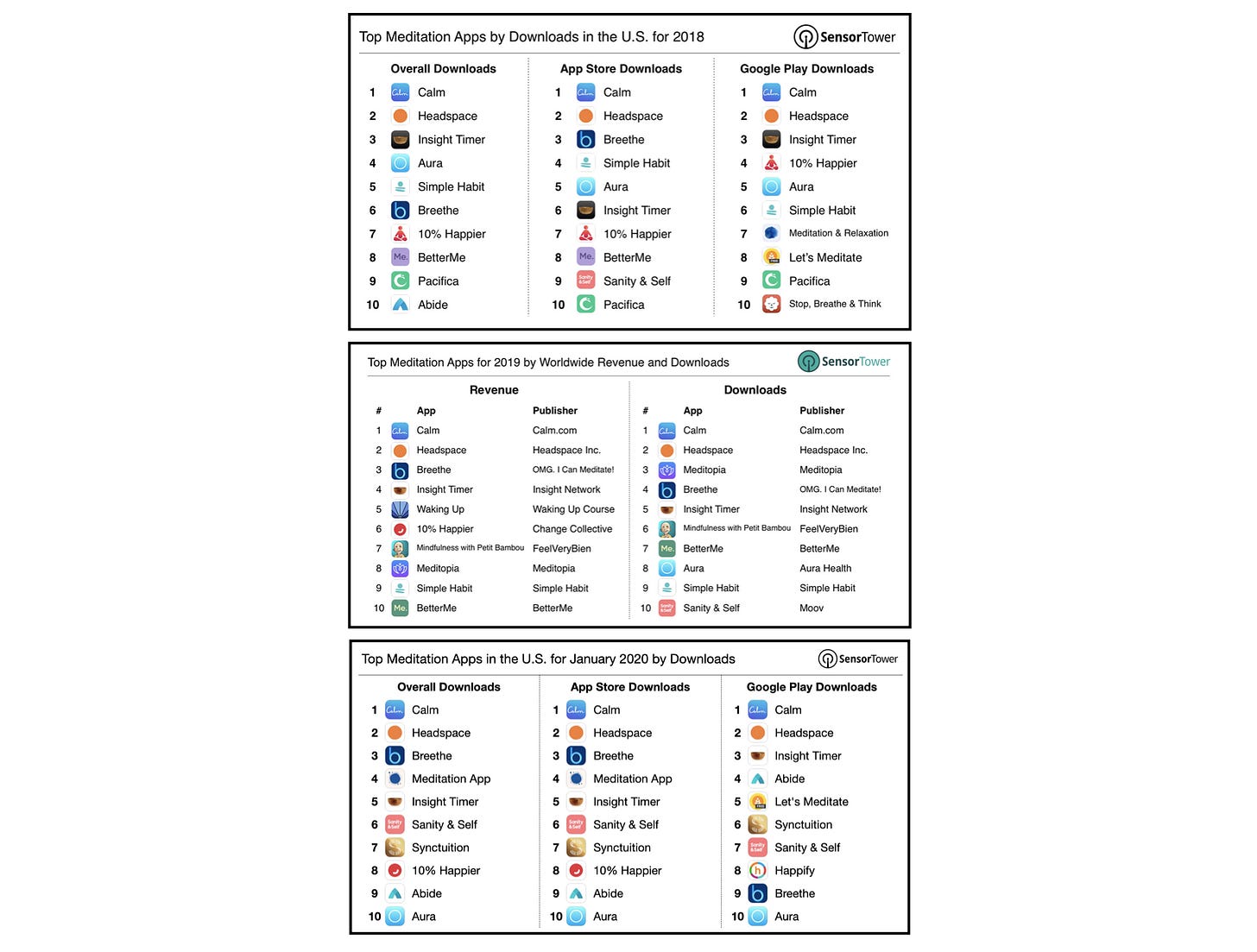 What's unique about this story is that Headspace was supposed to win. They were first to market, with an amazing origin story (their founder studied as a Buddhist monk) and had all the early momentum. So, how did Calm get the upper-hand? 
In my humble opinion, their rise and sustained success come down to alignment between three factors: Positioning, Product and Packaging.
---
Want fresh packaging case studies delivered straight to your inbox? 📩
---
Positioning: Inputs vs Outcomes
The turning point for Calm came in 2017. Up until July 2017, the hero copy on their website read "Meditation Made Simple".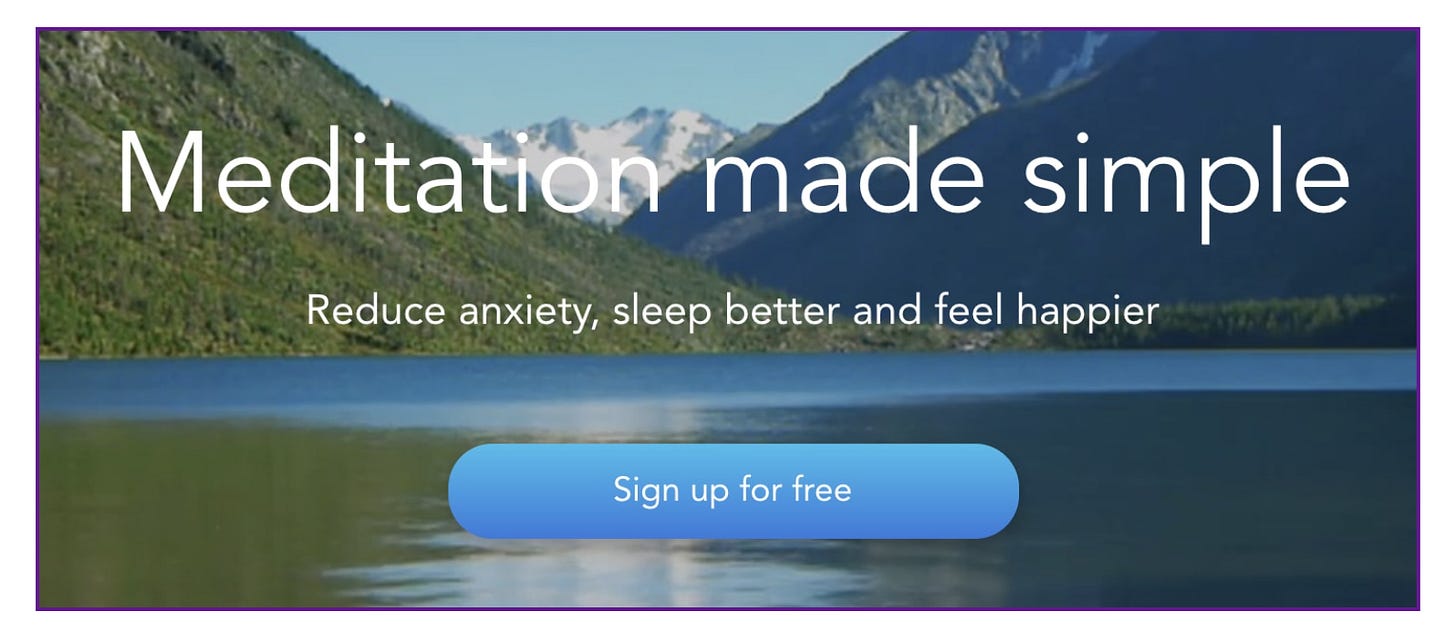 This positioning made sense given the only other major competitor in the space was Headspace, whose positioning was solely dedicated to helping users build a meditation habit. As Tomasz Tunguz of Red Point ventures explains, when building a market - competition is a good thing.
"At the early stages of market creation, the most threatening competitor isn't the startup down the street. It's non-consumption. Simply put, the customer does nothing, buys nothing."
Focusing on meditation early on validated the market, giving rise to two viable competitors, but once Calm felt ready, they pivoted their messaging to capture a broader target. Specifically, in August, their hero copy shifted to "Welcome to Calm".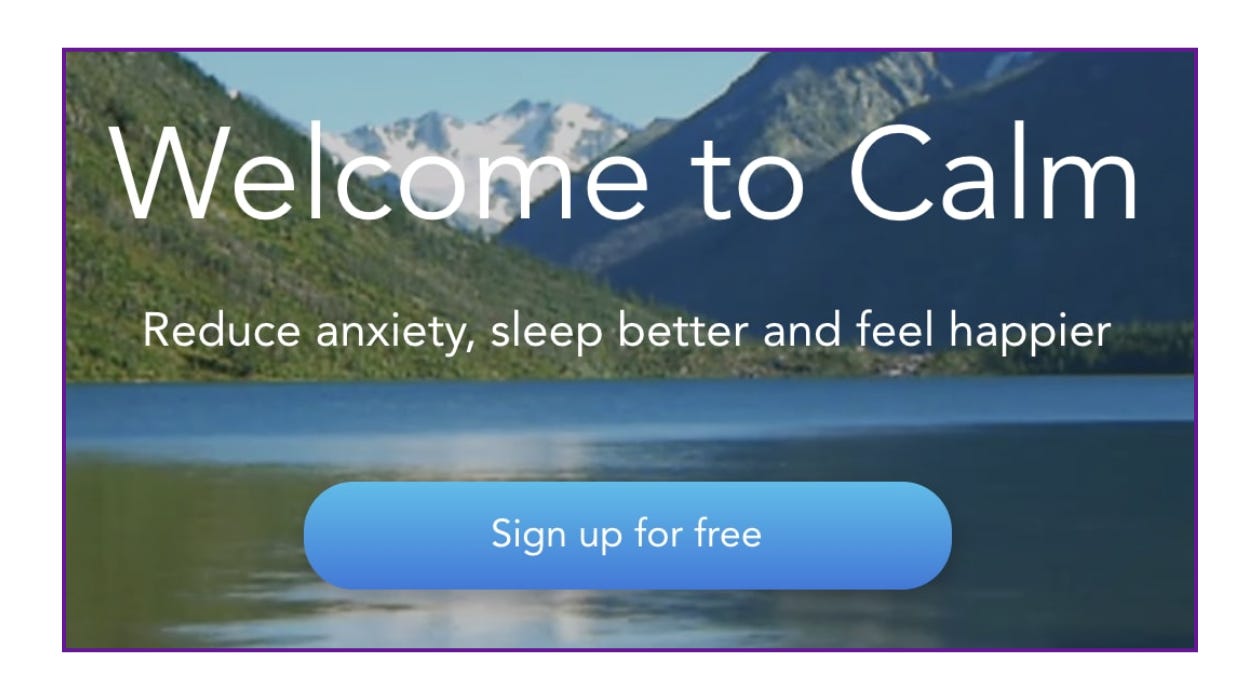 This re-positioning served multiple purposes. First, by switching the focus from one input (meditation) to the desired outcome (calming one's mind), their new messaging appealed to an idealized state. Rather than pitching their app as the best way to learn a new habit, which requires time, effort, and consistency, they led their messaging with the end-state of that commitment. Their visual aesthetic perfectly captures this, with beautiful, tranquil images anchoring the background of their app and website. In a digital world filled with anxiety and stress, Calm appealed to the aspirational destination their visitors strived for.  
A secondary benefit of this positioning is that it casts a wider net than focusing solely on meditation. By this point, Calm had already incorporated Sleep Stories and Soundscapes into their product and were not solely-focused on meditation. This shift in messaging better reflected their actual product-mix, and positioned them perfectly for the emergence of wellness as a holistic category.
As a result, in December of 2017, Calm was awarded Apple's app of the year - solidifying their arrival and spurring a 3-year (and counting) streak of download dominance. This positioning shift was important, but retaining paid users also requires a quality product.
---
Product: The Art of Bundling
There's a legendary quote from Jim Barksdale, former CEO of Netscape that has become a classic business axiom. 
"There's only two ways I know of to make money: bundling and unbundling."
I love this quote because it makes business seem so simple. It can be applied to pretty much any company or strategy, including Calm's approach to product. While Headspace was dead-set on helping users hone their meditation habit, Calm saw meditation as one piece of the wellness puzzle, and in 2016, added another product to their mix, Sleep Stories. 
Sleep Stories are professionally narrated tales with the sole purpose of helping listeners fall asleep. When they launched the product, there were a couple alternatives on the market, but neither had the momentum or adoption of Calm or Headspace.
By adding Sleep Stories alongside meditation, Calm broadened their appeal to new users. They also knocked it out of the park with the product, garnering organic endorsements from celebrities like John Mayer and actor Stephen Fry, who has since narrated Sleep Stories himself. By the end of 2017, interest in sleep apps peaked, and Calm was perfectly positioned to take advantage.

In addition to Sleep Stories, Calm built a library of sounds to be used flexibly: for sleep, focus, meditation or relaxation. By bundling meditation, sleep and focus music, Calm offered multiple entry-points to the world of wellness, allowing users to chart their own path to inner peace. This opened their product to a wider audience and forced Headspace to respond. 
In 2018, Headspace released their own version of Sleep Stories called Sleepcasts, likely to stifle churn. While this doesn't forward their original purpose of building a meditation habit, it likely felt necessary in the face of their competition with Calm and validated the bundled-product approach.
A final difference between the two rivals is how they approach packaging, specifically, what they give away for free.
---
Packaging: Commoditizing the Basics
Let's start with Headspace, and keep in mind, this has likely changed in the face of COVID-19 as both companies have made their products more accessible. 
Headspace offers a free trial that includes the first 10 sessions from the Headspace Basics series. The goal of Basics is to help beginners build momentum towards a meditation habit through guidance from a professional. Given this focus, it makes sense that at a certain point, they would start charging to continue the journey. After the first 10 sessions are up, Headspace charges $12.99 monthly or $69.99 annually ($5.83 per month). 
Simply put, with this strategy, Headspace sacrifices acquisition for usage. Their packaging reflects their product and is geared towards helping a user grow a consistent meditation practice. 
Unsurprisingly, Calm takes a different approach. While they also offer a free trial of their Premium plan, theirs is limited by time (7 days) rather than usage. This distinction between time-based and usage-based speaks to the difference in their goals. Headspace's usage-based approach is aimed to cultivate a habit through linear sessions, while Calm's time-based approach allows a user to experiment with the product and find what resonates most with their needs. 
Along with the Free Trial, Calm offers a feature-limited Freemium option. While users need to pay to access premium features, Calm gives the basics away for free, including open-ended meditations, a range of sleep soundscapes and select focus music.
This not only helps fuel their acquisition funnel but also sets customer value expectations. By commoditizing basic functionality, Calm forces competitors to develop premium products. Since the products Calm offers, like Lebron James' Mental Fitness Masterclass and Matthew McConaughey-narrated Sleep Stories are so high-quality, it becomes difficult for others to compete without a comparable revenue-base or capital investment to draw from.
---
Conclusion: The Future of Wellness Apps
While Calm may have double the paid users that Headspace has, the truth is that Headspace is far closer to Calm than the rest of the pack, forming a duopoly at the top, with a deep bench of alternative apps. In an episode of Pricing Page Teardown from February 2019, Patrick Campbell and Peter Zotto discuss the notion that Calm and Headspace are ultimately content companies. This rings even truer today as premium content has become the biggest product differentiator.
This flywheel of deploying revenue/funding to invest in premium content, driving subscriptions through that premium content, then reinvesting that revenue back into more premium content reminds me of the dynamic in classic Hollywood Studios.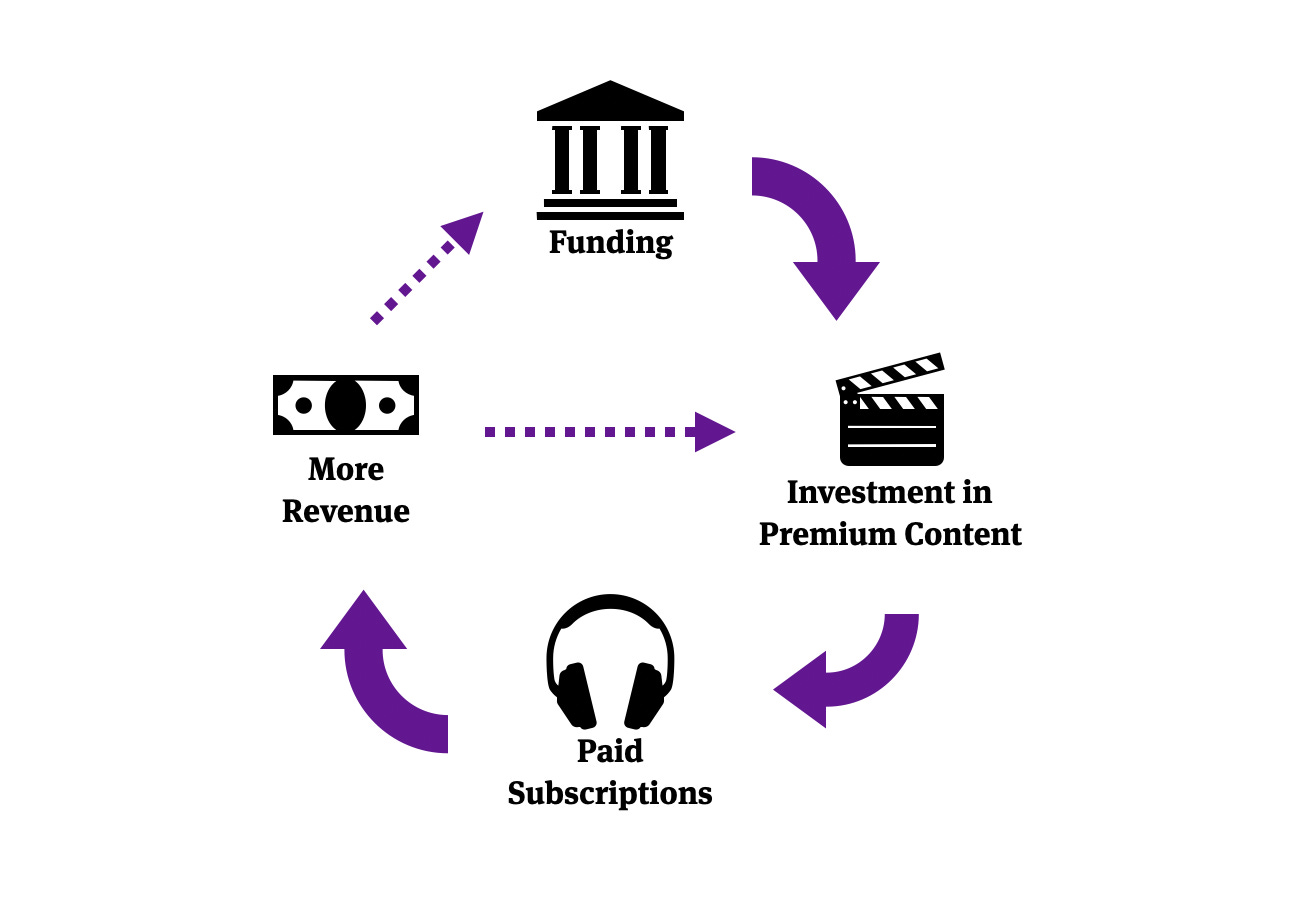 In traditional Hollywood, there are a few majors (e.g., Disney, WarnerMedia, Sony), several mini-majors (e.g., Lionsgate, Amblin, MGM) and a long tail of niche indies (e.g., A24, Blumhouse).
In the mindfulness space, it's a fool's errand to chase Calm and Headspace. The more realistic opportunities lie in the periphery. This has been playing out, with mini-majors like Insight Timer and Aura, followed by indies like Dan Harris' 10% Happier and Sam Harris' Waking Up. 
Looking forward, the best opportunities for new wellness apps will likely be derived by unbundling one component of wellness and tailoring a product to serve that specific niche.
---
To bring it home, I am currently on a 28-day meditation streak, my longest ever. While it has definitely been helped by the current quarantine, another reason is the simplicity of my routine. I use Calm for 5-minute meditations with their free soundscapes. While I'm not a paid subscriber, I'm also not a paid subscriber for any of their competitors, and it's likely only a matter of time before one of their premium products gets me hooked. 
The one that would definitely do it: a Masters-themed soundscape with Jim Nantz' smooth vocals over the backdrop of Augusta National. Just saying... 
---
Enjoying Good Better Best?
If you enjoyed this post, I'd love it if you hit the "like" button, that way I'll know which posts are resonating the most!
If you have thoughts or feedback, I'd love to hear from you! You can find me on Twitter here.